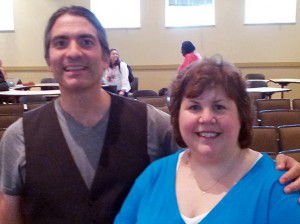 Last weekend I had the great pleasure of learning about matrix transformations in GeoGebra from the incomparable Todd Edwards! He was one of the organizers, along with Steve Phelps, of the 2013 North American GeoGebra Conference, held on the beautiful Miami University campus, in Oxford, OH. (I'll write more about that soon.)
I attended this session, in part, because my tweep, Barbara, passed on a query from my tweep, Pam, and I wanted to know the answer! Todd was pinch-hitting for a missing presenter, and he showed us enough about matrices to get me started.
On our long drive home, I made these:
A traditional activity in which a triangle is transformed by matrix multiplication.
A nontraditional activity in which a parabola is transformed by matrix multiplication.
What do you think?