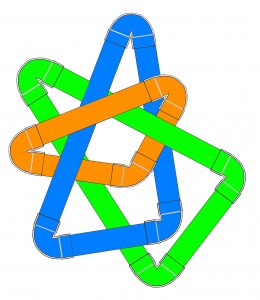 Inspired by Theo Jansen's Strandbeests, Latasha is making kinetic modern art from PVC pipe and fittings. Here is part of one of of her pieces:
She had corners custom-made to join the straight pieces, in angle measures of every 10° from 30° to 150°. She needs to make many, many triangles to build the structure, so she stops to think about what she can do to make the process easier and more efficient.
After exploring cut-outs of the PVC pipe pieces, students try these GeoGebra sketches.
GeoGebra Applets (GeoGebraTube)