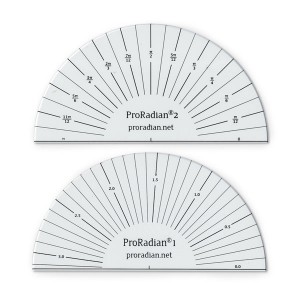 So, it's 3:30 am, and I am wide awake in a hotel room, awaiting my now-redundant 5:15 wake-up call. I am filled with nervous energy because today I am exhibiting my ProRadian Protractors for the first time at a math conference. I've done several workshop presentations, the first of which had 96 attendees, but this is the first time I'm a "vendor." My husband and I drove down last night so we could be closer to the conference site; set-up begins at 6:30. The plan was that we would work the booth together, but he got sick the night before, so he'll help set-up and then go back to the hotel to sleep some more.
This business endeavor has been one leap of faith after another – beginning with the spark of an idea in May, 2011. My first manufacturing attempt was not successful – the hot-stamping did not produce sufficiently clear lines. I had to pay for the dies to be produced, a cost that won't be recovered. Live and learn though, huh? When we found a better method, the minimum order was pretty significant, but I felt committed at that point. I looked at it this way: my older son had spent a semester at Berklee School of Music. It turned out to be the wrong fit for him. I figured I could spend on my learning project what we had spent for him to learn what he did in one semester at Berklee. It was my education, if nothing else.
But now I'm seeing that this actually might be a viable commercial opportunity some day. I had a HUGE sale to a big Atlanta-area school system last month which depleted my inventory by about 25%. I've sold classroom sets to 14 schools so far, and I've heard that a couple more are in the works. The other night, someone bought 50 sets on Amazon. (If you're reading this, you know enough about me to buy directly from proradian.net, right?) And yesterday, Nasco sent a P.O. requesting 50 ProRadian Learning Sets and 50 ProRadian Pro's because the 10 of each they had purchased 12 days before had already sold out! Woo hoo!
It will be a long time before I am in the black, but this is an exciting journey. To have an idea, turn it into a product, and see it in the hands of the students it will help is an amazing feeling. I hope that these protractors make a lasting difference in the way students learn about radians. That will be my greatest reward.